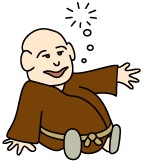 Wisdom of the
Drunken Sages
If you'd like Sagittarius to share his wisdom on your website, you can for just $1.97, and the purchase price includes Master Resale Rights, so you can resell Wisdom of the Drunken Sages and keep all the profits! Plus, every time you make a sale, you'll have the opportunity to earn commissions on sales of other products!
That's a "no-brainer", even for a drunken sage!
The word and sentence lists that Sagittarius generates his wisdom from are completely customizable, as is the formatting of the output. You can have it displayed in an auto-refreshing iframe as shown here, or have it inserted into the HTML source code of any PHP powered webpage (a new sentence will be generated each time the page loads).
Website Requirements:
• PHP 4 or higher
• MySQL
100% Money Back Guarantee!
I'm so confident that you're going to love Wisdom of the Drunken Sages that I'm going to accept 100% of the risk of your purchase. If you don't love it, contact me within 30 days of purchase for a full refund, no questions asked.
Help Desk